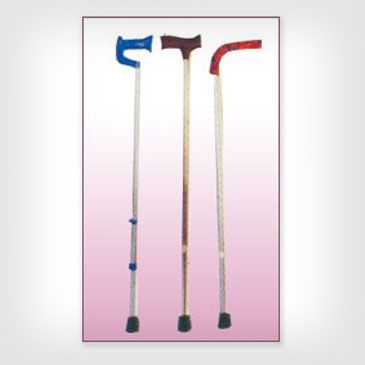 Walking Aids

Aliuminium Walking Sticks (Adjustable)
Features
1. Made of high glossed anodized aluminium.
2. Sticks made of locking silence for rattle free use complete with non skid rubber tips for long, safe wear.
3. Grip Handles available in Wooden, PVC sleeve grip U-shape, L-shape foam grip, Moulded hand grip.
4. The offset models and modified crook models properly position the line of force through the shaft and improving leverage and stability in gripping and weight bearing.
5. Pin adjustment for varying lengths.
6. Also available in CRC pipes with powder coating.
Applications
1.Ideal Support for old aged people having limited physical strength.
2. Used by accident patients as a walking aid and faster recovery.
Sizes
Universal with adjustable length