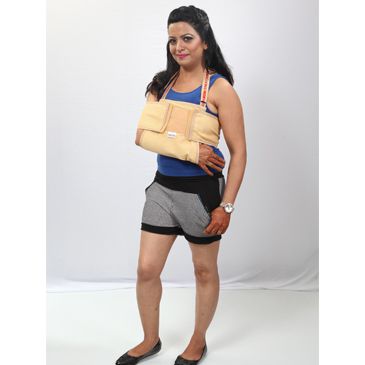 Fracture Aids

FA6 SHOULDER BRACE (REG.)
Features
1.Fits right or left arm.
2. Made from durable cotton fabric and nylon straps.
3. Straps fit over shoulders, cross at the back and knot around the waist for even weight distribution and maximum patient comfort.
4. Arm restrain band fits around patient's back and is fastened in front with Velcro to the hand support position of sling.
Applications
1. Used for comfortably supporting the sprained, broken or surgically operated arm while it recuperates.
2. Weight of arm is uniformly distributed and is borne by the shoulder and not the neck, which ensures no cervical pain or stiffnes.
3. Extra strap for better immobilisation of injured hand.
Sizes